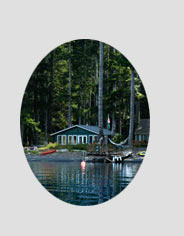 Our Cottage
The cottage on Barnes Cove at the base of Mt. Storm King (pictured above), faces spectacular views of the lake and mountain ridges. Within an easy walk, through ancient forests, are Lake Crescent Lodge, Storm King Ranger Station, a public boat launch, and scenic nature trails.
The cottage (approx. 750 sq. ft.) provides a gracious setting for indoor-outdoor vacationing: swimming, canoeing, kayaking, scuba diving, sunning at the doorstep, a bonfire by the beach or an evening indoors by the woodstove.
The Great Room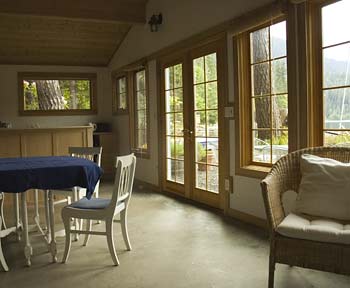 Living and Dining
Galley kitchen
Woodstove and electric heat
Lake view from the sofa
Olympic Peninsula trail guides & maps
Bedrooms
Two small, cozy bedrooms
South Bedroom - double bed, wardrobe
North Bedroom - double bed with high twin bunk, dresser
High twin bunk - reserved for host grandchildren
A Spacious Shower-Bathroom
Other Amenities
Washer/dryer laundry facilities.
Local phone
DVD player & DVD's
Stereo & CD's
Leisure reading materials
Families are welcome, children 6 and older. Seniors will enjoy comfort and convenience: everything on one level, no steps, drive up to the door.
No smoking, pets, entertainng, parties, or events!